On December 5, 2020, Li Ming, President of Sino-Ocean Group and Chairman of INCOM, came to INCOM RESOURCES Food-grade rPET Production Plant, and visited the plant laboratory, equipment repair workshop, cleaning workshop, melt extrusion and SSP workshop and the whole process of finished products filling accompanied by Chang Tao, General Manager of INCOM and Wang Jian, Deputy General Manager of INCOM RESOURCES, and learned in detail about the production management and production technology of each workshop.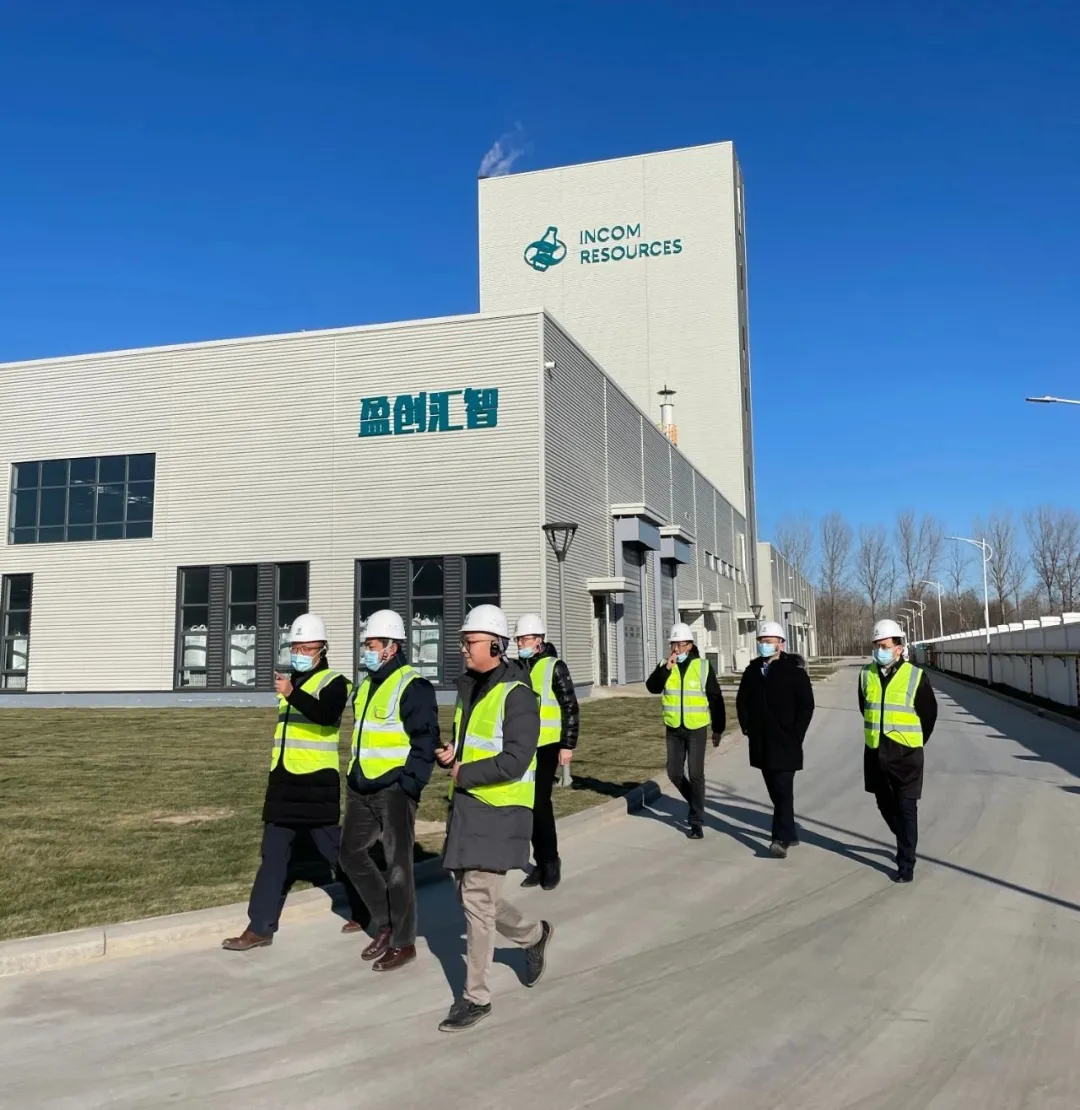 INCOM RESOURCES (TIANJIN) is the Tianjin plant of Beijing INCOM Recycle Co., Ltd., an investment enterprise of Sino-Ocean Group, and it is an upgrade and reconstruction after the overall relocation of the original Beijing plant of INCOM. The former Beijing plant was completed and put into production in Shunyi District, Beijing in 2005, and moved to Tianjin Baodi Economic and Technological Development Zone in response to the national strategy of integrated and coordinated development of Beijing-Tianjin-Hebei. The project officially commenced on November 24 this year, and upon completion of the plant, the entire process from domestic beverage bottles to food-grade recycled rPET will be fulfilled, which is a typical project in which Sino-Ocean Group actively engages in the development of circular economy.
At the subsequent symposium, Chang Tao, General Manager of INCOM, gave an introduction to the overall operation of INCOM RESOURCES. Since the commencement on November 24, the project has fulfilled a smooth transition from the construction and commissioning process to the stable production process. In the next core work, INCOM will devote enormous efforts on customer inspection, certification and stable operation. It is expected to achieve full production in June 2021, and tn the future, it will achieve a great leap forward after the reconstruction of the plant with emphasis placed on "ensuring sales, operation, production and brand" .
The president give a positive affirmation concerning the commencement and construction of the plant and the quality of its finished products, and raised requirements for the work of the Tianjin plant of INCOM:
I. Equipment maintenance and operation should be done well and core technical team should be well built. It is indeed not easy for the plant to launch work quickly, and we wish that everyone will continue to work hard, and especially, we should attach enormous importance to how to maintain and run the equipment well when the old equipment is back in operation and new technical transformation technology is added. It is required to give more encouragement and care for the core technical staff and team, and form a complete production process team in the follow-up work, so as to smoothly realize the coordination of equipment and personnel and ensure the stable operation of the production line.
II. More importance should be attached to the construction of upstream supply chain and the cooperation of downstream end-customers. Focusing on the stable operation of the plant, it is requisite to achieve the traceability of the sources and products from the point of view of safety. With a view to ensure food safety, all personnel and materials entering and leaving the plant must be traceable at judicial level.
III. We should enhance product quality and put a high premium on internal strength cultivation. Food contact materials are concerned with public health, so we must maintain a strict standard for product quality and endeavor to develop into the world's top provider of food contact packaging materials. While ensuring that the existing appearance and packaging do not fall behind, we should set up a quality certification and standard system in an accelerated manner by aiming at the domestic leading level.
IV. Raise service awareness and fulfill customer value. INCOM RESOURCES should not regard itself as a production enterprise, but position itself as a service enterprise. For the purpose of "helping ideal and successful enterprises to guarantee their willingness to practice environmental protection", INCOM RESOURCES should constantly enhance its service awareness and help customers increase the value to be undertaken by social responsibility.