June 1st - INCOM announced in Beijing that the Phase II project of the rPET factory in Tianjin has officially commenced. The project aims to establish a production line for food-grade packaging materials with an annual processing capacity of 50,000 tons of waste plastic bottles. The project will adopt a phased construction approach and is dedicated to creating a high-quality, green, and low-carbon recycling and processing solution. The project is planned to occupy an area of 6,000 square meters and will be equipped with advanced cleaning, granulating, and polymerization equipment. It will strictly comply with national environmental assessment standards and incorporate photovoltaic power generation facilities to achieve a clean energy utilization rate of 33%. As a key national project for pollution control, energy conservation, and carbon reduction, it has received strong support from the Baodi District Government and the Management Committee of Baodi Economic and Technological Development Zone in Tianjin, which will accelerate its implementation.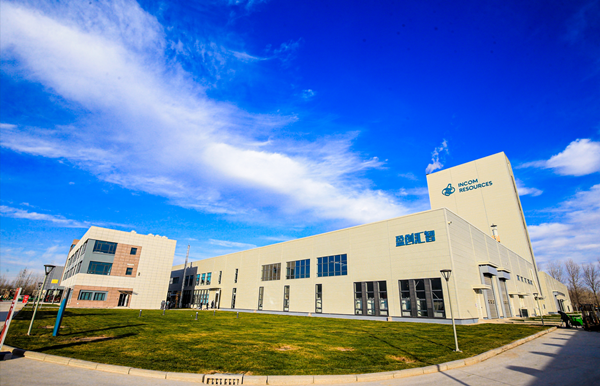 The project has completed the bidding process for the first phase of the high-quality sorting production line. Internationally renowned automatic sorting equipment manufacturer TOMRA and domestic AI sorting equipment manufacturer Databeyond Technology have been awarded different sections. They will collaborate with INCOM to create an advanced and diversified intelligent sorting production line, improve production efficiency, and enhance the quality of raw materials. Ms. Xie Xiaohan, General Manager of TOMRA's Resource Recovery Division in China, expressed her gratitude to INCOM for their trust in TOMRA:"TOMRA's sorting equipment utilizes world-leading technologies such as hyperspectral scanning, near-infrared, and visible light identification. It can accurately identify and remove non-PET materials and PET bottles of different colors, achieving high-purity sorting of PET bottles, and assisting in the continuous and stable production of high-quality bottle flakes"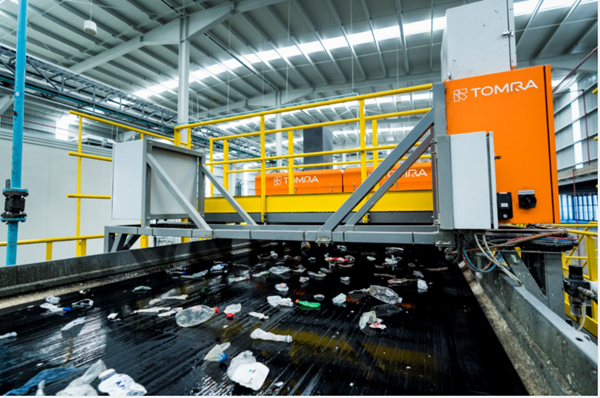 Currently, the Tianjin rPET Phase II project by INCOM is progressing rapidly. Once fully completed, the Tianjin rPET factory will be able to process 80,000 tons of waste beverage bottles annually, with a production capacity of 60,000 tons of high-quality PET flakes and 30,000 tons of food-grade PET chips per year. Through the phased construction approach, INCOM's product line will be further expanded and upgraded to meet the increasing demand for PCR PET in various industries and fields.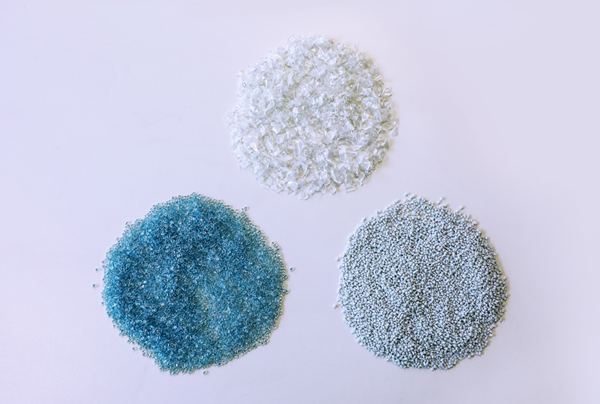 Company Introduction
As one of the earliest domestic companies advocating and practicing the sustainable utilization of recycled resources, INCOM built the largest food-grade recycled polyester production line in Asia in Beijing in 2005. It has an annual processing capacity of 50,000 tons of waste PET beverage bottles, producing 30,000 tons of clean polyester flakes and 20,000 tons of super-clean polyester chips, filling a gap in the field of high-value PET recycling and utilization in China at that time.
INCOM has always adhered to the concept of circular economy and actively built a closed-loop sustainable recycling industry chain for rPET. With the support of global renowned professional companies such as Buhler, Sorema, and Pellenc, it has constructed a leading food-grade processing solution and established a fully traceable supply chain information platform based on the business advantages of its parent company, INCOM Recycling, in the field of resource recovery. INCOM's sustainable solutions for food-grade rPET continue to upgrade, providing cleaner and safer food-grade recycled materials to global partners and jointly fulfilling the sustainable commitment and goals of packaging recycling and reuse.
INCOM's technology and products have obtained certifications from FDA, GRS, ISO9000, ISO14000, and have successfully passed challenging tests in China (challenging tests provide new impetus for the development of food-grade rPET). The certification process with the European Food Safety Authority (EFSA) is currently underway. The continuous reinforcement of the safety guarantee provided by "Ultra-clean" food-grade rPET in food packaging makes it even more reliable.
According to professional calculations, the production of 1 ton of recycled polyester can reduce carbon dioxide emissions by 2.11 tons compared to virgin polyester, which is equivalent to saving 0.81 tons of standard coal, 0.69 tons of gasoline, 0.7 tons of petroleum, and planting 422 trees. The innovative practices and extensive application of food-grade rPET will effectively promote the management of plastic waste and contribute to environmental protection, solidifying the development of the circular economy and achieving the dual "carbon" goals at an earlier stage.