On the morning of December 30, CAI Lianchun, vice president of SK geo centric("SKGC" as the abbreviation), a subsidiary of SK Group, held a signing ceremony with Chang Tao, CEO of Beijing Incom Recycle Co., Ltd. ("Incom" as the abbreviation), on the cooperation of SKGC's investment in Incom food-grade recycled PET plant. Through this investment, SKGC will become a 10% shareholder in the subsidiary Incom Resources Recovery(Tian Jin) Co.,Ltd of Incom. The two sides reached strategic cooperation to jointly promote the development of China's plastic recycling industry.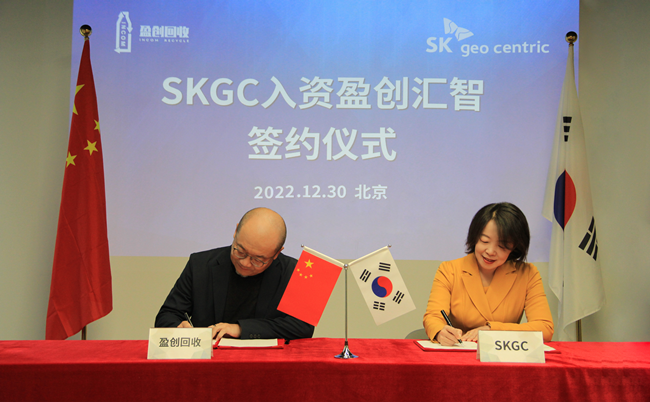 SKGC Vice President CAI Lianchun (right) and Incom CEO Chang Tao (left) signed the investment agreement
SK Group is one of the three major consortiums in South Korea, with energy, chemicals, telecommunications and semiconductor manufacturing as its pillar industries. It ranks 97th in the Global Fortune 500 in 2020. SKGC is a representative company in the petrochemical industry of South Korea. In recent years, SKGC has been adhering to the beautiful vision of Green For Better Life and proposed to recycle all the plastics produced by 2027, comprehensively promote the plastic recycling industry based on the three chemical recycling technologies, increase the production of green products, and achieve the strategic goal of green chemical company.
Incom is a leading enterprise in sustainable utilization of renewable resources in China. It has three strategic business segments, namely Incom Resources, Incom Hi-tech and Bottloop, focusing on the whole business model of recycling channels, recycling plants and sustainable lifestyle. Among them, Incom Resources Recycled PET Factory has the earliest food-grade recycled polyester chip production line in China, and its production technology is the leader in domestic industry in terms of domestic challenge testing and relevant certification. Relying on Incom brand and the mature layout of the industrial chain of environmental protection and sustainable recycling, it has been continuously exporting food-grade RPET innovative solutions to global brands since 2005. At present, it has become the industry model with international competitiveness.
This investment by SKGC will speed up its strategic layout in China's plastic recycling market, and play a positive role in promoting the international market expansion of Incom. The combination of the two sides also has significant significance for the upgrading of the domestic plastic recycling industry chain and even the development of the industry.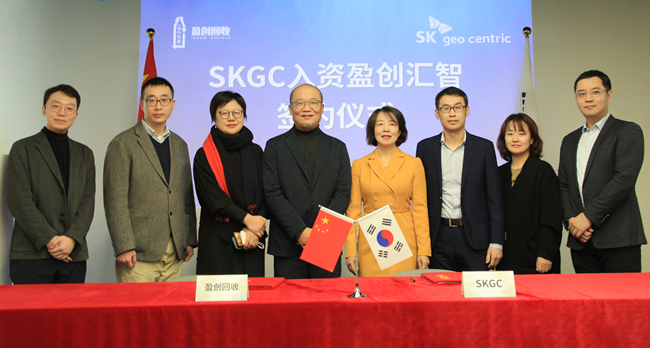 Leaders from both sides took a group photo
Ms. CAI Lianchun, Vice President of SKGC, delivered a speech at the signing ceremony: "SKGC is very optimistic about the future market opportunities and prospects of rPET, and we also see the outstanding performance and great potential of Incom Resources in this track. We hope that with this project as a starting point, both sides will deepen exchanges and work together to strengthen the building of domestic plastic cycle demonstration benchmark, and explore strategic cooperation in more areas in the future."
"As one of the world's largest producers and consumers of plastic packaging, China is also facing new opportunities and challenges in the field of food-grade rPET applications," said Chang Tao, CEO of Incom in his speech. As the earliest enterprise committed to exploring food grade applications in China, with the investment of SKGC, Incom Recycle will accelerate the scale expansion and technology growth, and inject stronger competitiveness into the brand. We hope that we can work together for a win-win situation, and accumulate considerable power for China's circular economy construction and the realization of the double "carbon" goal."