Products Applications
What are APET Pellets?
* APET Pellets(Amorphous Polyethylene Terephthalate) are a type of RPET. RPET is recycled PET (polyethylene terephthalate) plastic used to make packaging such as plastic bottles and food containers. After consumers use virgin PET containers, they are returned through a recycling program to a facility that sorts, cleans, and converts plastic into rPET flakes or APET Pellets. The rPET flakes/pellets can then be reused to make new products such as fibers for clothing and carpets or plastics for food and beverage containers. Converting post-consumer PET into a valuable resource helps protect the environment because rPET has a lower carbon footprint than virgin PET.
* PET plastic is used to make clear, strong, lightwei Amorphous Polyethylene Terephthalate Industry food and beverage containers and packaging. PET is 100% recyclable and is the most recycled plastic in the world. According to the PET Resin Association (PETRA), more than 1.5 billion pounds of used PET bottles and containers, such as beverage and cosmetic containers, are recovered for recycling each year.
* APET Pellets are obtained by recycling the used PET bottles, through a series of processes such as sorting, cleaning, melting and extrusion.
Application of Amorphous pet
* APET Pellets is mostly used in the textile field after matting or semi-matting processing.
* At the same time, APET Pellets is also mainly used in the field of sheet , such as environmental protection films, blister sheets, etc.
* Because of its high transparency and strong impact resistance, APET Pellets is widely used in packaging in cosmetics, food, electronics, toys, printing and other industries, such as various high-grade blister packaging, folding boxes, plastic cartridges, windows, etc.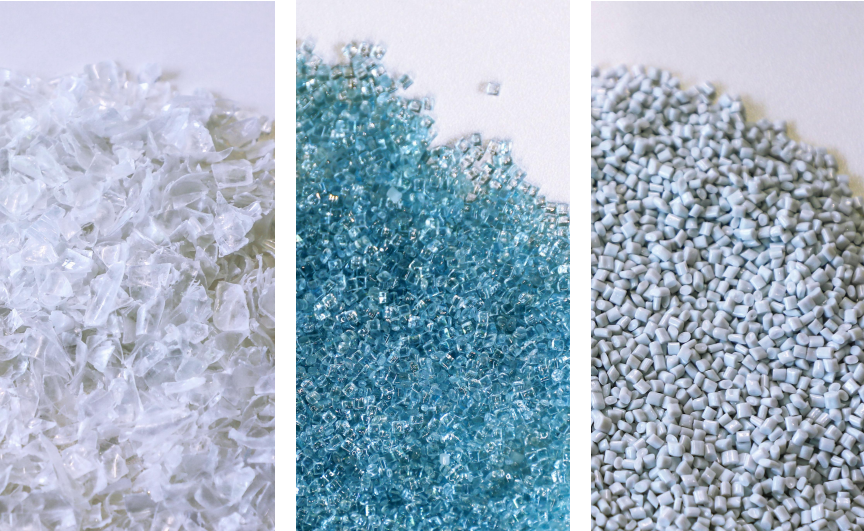 We have a complete RPET recycling production system, and we also produce high quality Clean Polyester Flakes, Ultra-clean Polyester Pellets.
Why choose us:
* Reliable strength: INCOM RESOURCES was established in 2003. It is a national circular economy pilot unit and an executive director of China Packaging Federation. It processes 50,000 tons of waste PET beverage bottles annually, and produces 30,000 tons of clean PET flakes and 20,000 tons of ultra-clean PET pellets. We have reliable enterprise strength and production capacity.
* Quality Assurance: Our APET Pellets have passed a number of tests, and the process technology and products have passed ISO9000, ISO14000, FDA, GRS and other certifications. The automatic sorting system is provided by French Bellanco, the cleaning unit is imported from the Italian SOREMA company's complete production line of clean PET bottle flakes, and the extrusion and solid phase tackifying unit adopts the imported equipment and technology from Switzerland BUHLER company. We use fully automated production lines and intelligent monitoring systems to ensure the efficient and stable operation of the production line, while reducing the loss of raw materials, improving production efficiency and the quality of RPET products.
* Comprehensive service: We will customize the production according to the level and parameters of RPET you need, and provide you with samples before you order in bulk, so that you can order without worry.
You can always click here to get customized service and free consultation!