Products Applications
Introduction of Pet Bottle Flakes
* Pet Bottle Flakes are obtained post-consumer from recycled PET bottles. It is a light-weight, high-strength plastic material. Pet Bottle Flakes is blow moulded, injection moulded and extruded to produce bottles, films and injection moulded parts.
* Used PET bottles will be recycled through physical recycling methods. It produces small pieces of regular size and consistent shape, namely recycled Pet Bottle Flakes, through recycling processes such as crushing, removing labels, removing impurities, washing, and drying.
Application of Pet Bottle Flakes
* PET bottle flakes are mainly used in the textile industry, such as polyester staple fiber, the production of carpets, wadding cotton, non-woven fabrics, etc. Other cases like regenerated silk, which is used to produce high-end textile materials, such as blankets, sofas, curtains, clothing, etc.
* At the same time, it is also used in the modified plastics industry, such as alloys, high-barrier materials, glass fiber reinforced materials, etc., which are used to make household appliances, automobiles, computers and other parts.
If you want to know more about Food Grade RPET or APET Pellets for other uses, please click here.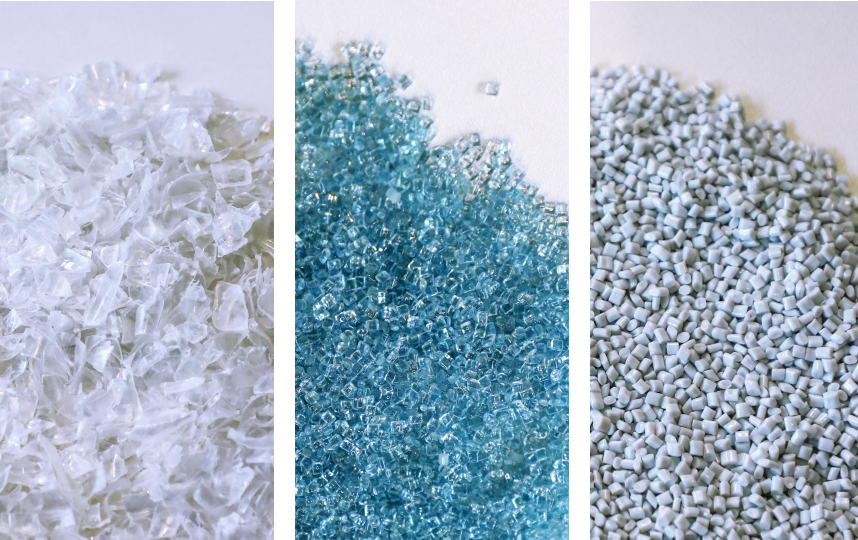 Types of Pet Bottle Flakes:
1. Hot Wash Pet Bottle Flakes
Used for various purposes such as:
* Short fibers: You can use this raw material in household products such as carpets and stuffed toys, as fillings for pillows and cushions. These are also used in the textile industry, for example in the manufacture of clothing, upholstery and fabrics. You can even use it to produce fishing nets.
* PET strapping tape: This tape is primarily used for industrial packaging and cotton baling, but has other uses as well.
* PET sheet for thermoforming: You can use it in at least four ways, such as roof insulation, packaging for toys and objects, PET film, grocery and food containers.
* PET preforms: You can produce not only automotive liquid bottles, but also multilayer bottles for food applications.
* Other Uses: These are also used in recycled PET resin, monofilament and injection molding.
2. Cold Wash Pet Bottle Flakes
Manufacturers may include labels and covers. They may have a thin layer of PVC, such as 88% PET, 4% PVC, and the rest in multiple layers. Some manufacturers offer Pet Bottle Flakes with less than 0.05% PVC. It is important that manufacturers be aware of contamination. Some manufacturers ensure that there are no PVC or any other contaminants in the material when removing the cap, ring and label. Moisture (humidity) is a common characteristic of cold-washed PET flakes. You might normally expect around 1% moisture. They can be transparent or dark, green, blue or other colors.
3. Unwashed Pet Bottle Flakes
These Pet Bottle Flakes are made by shredding used PET bottles and may or may not come with labels and caps. These flakes are widely used in industry for a variety of purposes, such as making new PET bottles, making resins, and producing bristles for toothbrushes. Grinding PET bottles while maintaining quality is not easy. These flakes can also be dangerous. Therefore, some manufacturers offer flawless quality and innocuous features. These can be sold or exported as clear, one colour or a mix of colours.
i-PET can bring you:
1. Rich production experience: i-PET was established in 2003. It is a national circular economy pilot unit and an executive director of China Packaging Federation. Our annual processing capacity is 50,000 tons of waste PET beverage bottles, producing 30,000 tons of clean PET flakes and 20,000 tons of ultra-clean PET pellets.
2. Advanced technical equipment: Our company's automatic sorting system is provided by French Bellanco, the cleaning unit is imported from Italy SOREMA company's complete production line of clean PET bottle flakes, and the extrusion and solid phase tackifying units are imported from Switzerland BUHLER company. and craftsmanship. Equipped with the world's leading PET recycling process solution, fully automated production line and intelligent monitoring system.
3. Reliable product quality: Our products have passed FDA, GRS, ISO9000, ISO14000 professional certifications, and have passed a number of strict tests with reliable quality.
If you want more details, please click here to ask anytime!